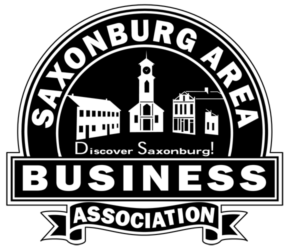 Saxonburg's Main Street Fair is Back!!
Every third Thursday between May – September
5:30 p.m. – 8:30 p.m.
2023 Dates
May 18
June 15
July 20
August 17
September 21
Organized by the Saxonburg Area Business Association (SABA), the Mingle on Main events are free to the public and attract local food and craft vendors. See you at the Mingle!
Main Street will be closed to vehicle traffic on Mingle nights starting at 4 p.m. from Pittsburgh Street to the Presbyterian Church on Rebecca Street. Except for emergency vehicles, no one is permitted to drive on Main Street during the Mingles for safety purposes.
A note on Dogs: Dogs are welcome! Please be sure your dog is comfortable with crowds and noise, and don't forget to bring drinking water, and bags for any cleanup needed!  
---
Vendor sign-up information is below:
Steps to Take:
1. Choose below what type of vendor ticket you'll need (Hot Food, Artisan/Craft, Solicitor). Email a request for approval to sell your product (a quick email stating who you are, what you sell, & the date[s] you're interested in, whether you're a non-profit) to the Mingle Coordinator, Meghan, at Mingle16056@gmail.com .
2. Approval/Denial emails will be sent as soon as possible. Approval emails will include the link and a password to access the Payment Portal for your chosen date(s), and a copy of our Vendor Agreement regulations. You will receive your Vendor Location about a week prior to the event date.
3. That's it! You'll receive an email confirming your payment.
Hot Food Vendor $75 per event date (selling hot food items by way of a grill, griddle, crock pot, microwave, etc.)
Artisan/Craft Vendor $25 per event date (selling crafts or cold food items or drinks, etc.)
Solicitor Spot $25 per event date (non-vendor space for handing out information, pamphlets, coupons, etc.)
Vendor Season Pass: Are available.
Vendor Application: Click here 
Cash/Check purchases: For Vendors needing to purchase a vendor spot using cash/check, please contact the Saxonburg Borough Secretary at 724-352-1400 ext. 221 or via email at secretary@saxonburgpa.com .
Notes: The Mingle on Main events are free to the public, so if you are not a vendor, you do not need to purchase a ticket. Franchise vendors are typically not accepted; please contact Saxonburg Borough for questions: secretary@saxonburgpa.com .
Payment Portal Links (password available through Meghan): 
June Mingle Vendor
June Hot Food Vendor 

July Hot Food Vendor

July Mingle Vendor

August Mingle Vendor

August Hot Food Vendor

September Hot Food Vendor

September Mingle Vendor

Vendor Agreement & Information